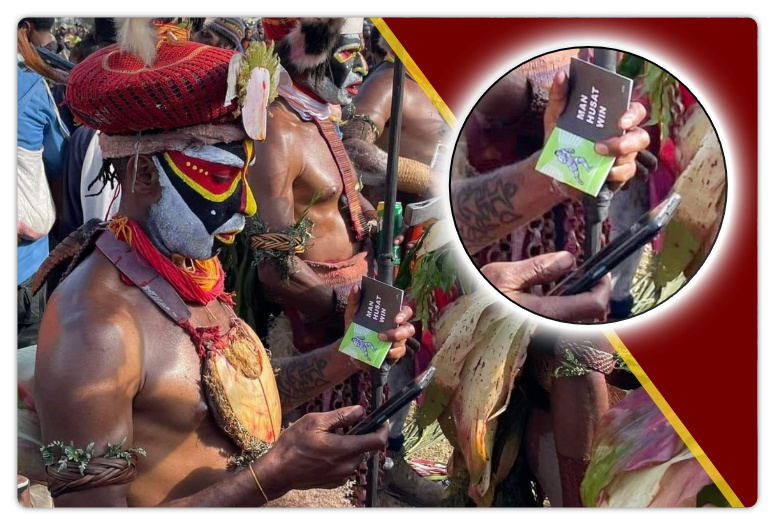 Photo taken during a political rally in Papua New Guinea, where one million Chick tracts you provided through the Chick Mission Fund are presenting Jesus! (Photo Credit: Justin Dye)
----------
For generations, Bible students have wondered how the people from all nations would be able to see the dead prophets on the streets of Jerusalem described by John in Revelation 11:9.
Today, modern technology has given us the answer as illustrated by the picture above. Notice what this native tribesman in Papua New Guinea is fully equipped with: face paint, a Chick tract —and a mobile phone connected to the world. Major tech companies are currently developing satellite internet services that would provide internet service globally, even to the dense jungles of PNG.
A century ago, people said this was impossible and that there must be some allegorical meaning. But now we see that God meant exactly what He said, and that we need to believe the Bible literally, even when we don't see a way that something can happen. Things change, and God's prophecies come true in all their detail.
Jack Chick wrote about this in his end time prophecy tract, Almost Time: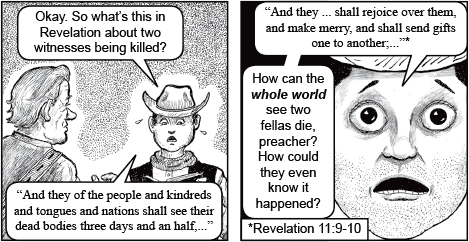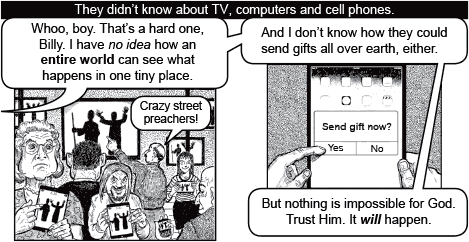 • • • • • •
Now... read more about the tract outreach in Papua New Guinea:
The Chick tract in the hand of the native from PNG was printed here in California and is part of the shipment of 1,000,000 tracts that we were able to provide thru the Chick mission fund, thanks to your gifts. Last year, the missionaries there helped us translate tracts into the local language of pidgin. The man in the photo is holding one of those tracts!
He is attending a PNC political rally for the upcoming elections. Thousands of tracts were seeded into that rally and they continue to reach many more cities in PNG with the Gospel!
Missionary Chad Wells provided us this update last month to report on how the tract distribution is going:
"Things are going fantastic with the tracts! Lots have been distributed in nearer areas (within a few hours drive). They have also been shipped/flown to other city centers around the country including Wewak, Wau, Kandrian, Lae, Baimuru, and Goroka, to be distributed by our sister churches."
"In Mt. Hagen we did a blitz with our youth and passed out 18,000 tracts. Up the highway, in probably 15-20 markets along the way, another 4,000 were distributed. We went to a huge campaign rally (it is our election time) in Ialibu and passed out 10,000. We also took our Bible College students to Mt. Hagen and passed out another 10,000 (a couple of hours later)."
The map below shows the cities that have now been seeded with the Gospel!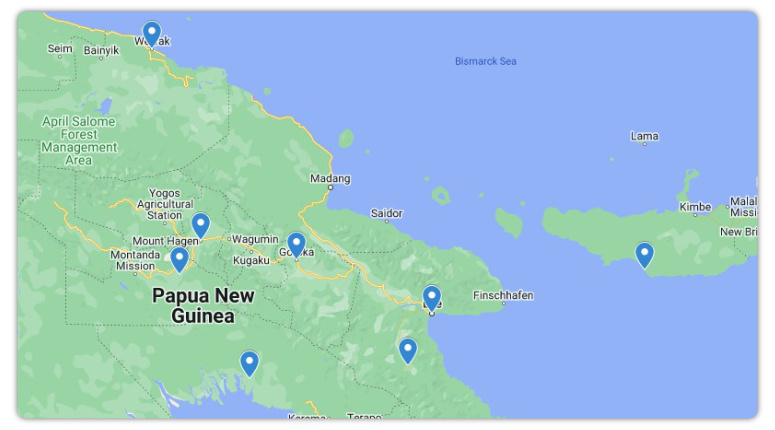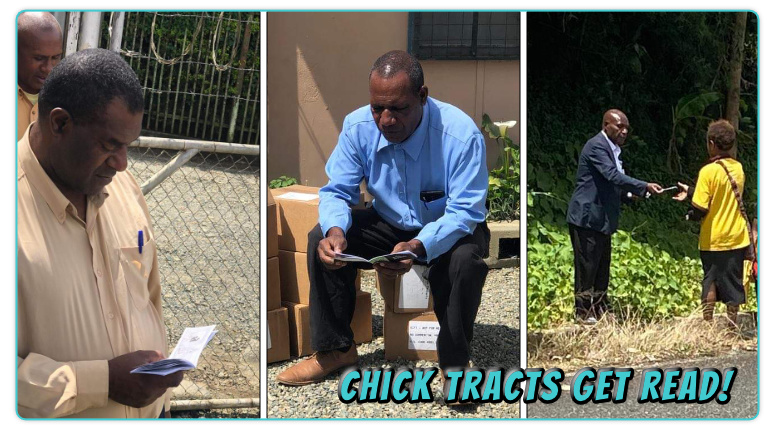 In the early days of Chick Publications, missionaries told us of tribes in New Guinea who had no written language. Communicating the Gospel to them was extremely difficult. We worked with missionaries there and came up with what was known as the "wordless Gospel" tract.
Instead of using text balloons, it had picture balloons that effectively communicated the Gospel message. The idea worked!
One day, in the early 1970s, a missionary working in the jungles of PNG sent us a photograph (black and white) of a native chieftain who had traveled for three days through the bush to get a copy of a book (Chick tract) that he was told that he could read and understand.
Jack Chick was so impacted by what he saw that he decided to have an enlarged poster made from that photo and hang it on the wall here at Chick Publications. Decades later, it still hangs here on that same wall as a reminder that the purpose of Chick Publications is to continue focusing on spreading the Gospel worldwide!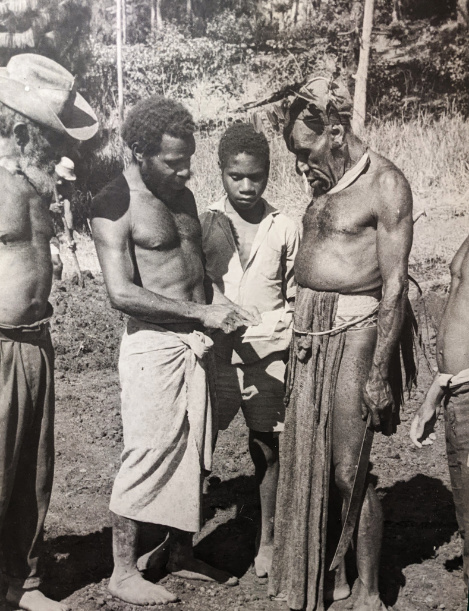 For several years the "wordless Gospel" tract was used effectively in New Guinea and adapted to other illiterate tribes in other parts of the world. Advances in literacy have since made the wordless Gospel obsolete, but Chick tracts have been translated into over 140 languages making the Gospel available to most of the planet's population.
Word is spreading among the mission fields of the effectiveness of Chick tracts, and Chick Publications now has the ability to send tracts in oceangoing containers.
Another shipment completed recently provided 2,000,000 tracts for a chain of churches and radio stations in Mexico and Central America. The tracts had the station call letters and phone number printed on the back. When a listener called in, they were directed to a local church.
Missionaries have told us that Chick tracts help bring people to their church and can even help start a new church! Missionary Ken Weaver in Ecuador told us:
"We have started 3 churches in 2 years in Ecuador and all three were started with tracts. The first 6 months we passed out 500 a week. It is the best way to get the gospel into the hands of people."
That's a significant return compared to the cost of the tracts. The missionaries did a wonderful job in distributing the tracts and praying with the people.
We are currently raising funds for a container going to the Philippines with a million tracts for missionaries and churches there.
It is wonderful to know that the Gospel tracts are effective all around the world. It is also a comfort to know that God's word is reliable. When the Bible says that the world will see the two prophets in Jerusalem and send gifts to each other rejoicing over their deaths (PayPal?), that prophecy has been fulfilled in our generation. But imagine the twitterstorm that will happen when the WORLD sees them stand on their feet and this prophecy is fulfilled.
---
What's Next for the Mission Fund?
We have many more missionaries who are waiting for tracts as the funds come in. Your gift to the mission fund will be put to work right away!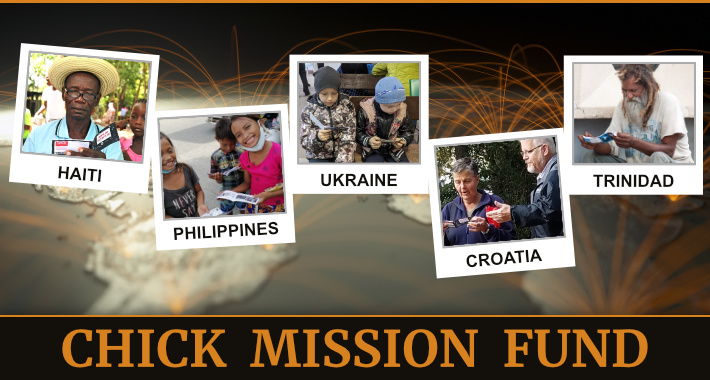 We maintain an account called: The Chick Missions Fund
Although we are not legally structured to give tax-deductible receipts, we definitely know how to get literature into missionaries' hands. If you would like to help extend the hands of a missionary with Chick tracts, please send your donation to:
Chick Missions Fund
Chick Publications
PO Box 3500
Ontario, CA 91761
If you would like to donate right now using a credit/debit card or a PayPal account, please visit our mission fund page:
100% of the funds you send to the Chick Mission Fund are used to ship literature to missionaries.
We receive requests frequently from missionaries who need your help.
Hundreds of thousands of tracts are now being printed for additional projects, with more requests coming in from missionaries every week!
WILL YOU HELP?