Papua New Guinea
See more from Chad on Facebook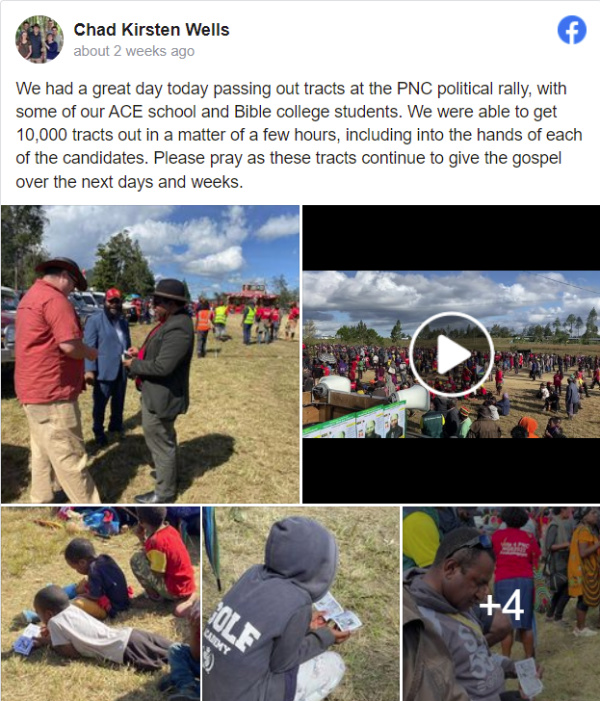 Mexico
You may remember the 200,000 Chick tracts we sent to a group of churches in the Mexico City area for a big outreach inspired by Missionary Todd Eklund. They have just finished using the last of them.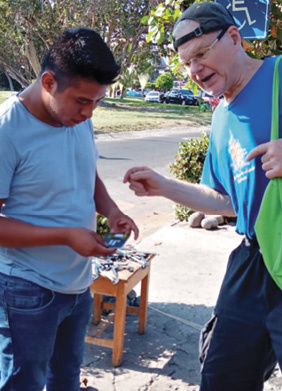 • • • • • •
Eklund writes: "Our Mexico City supermarket tract ministry is bearing fruit: Last year Yola and I gave a handful of Chick tracts to a young man named Jonathan working in the store's electronics department. On Thursday I bumped into Jonathan at the store and he informed me that he and his wife received the Lord Jesus after reading the tracts. Then a bagger at checkout asked me for Bible study material when I informed him we are out of tracts.
And so, we are waiting for more tracts. Please pray. Some will be for right here in mammoth Mexico City. Many will be for Ixtapa/Zihuatanejo. The super strategic market we minister in there reaches precious Mexicans coming to escape their daily life pressures. They come from all over Guerrero, Michoacan and Jalisco states, as well as several others. These three key Mexican states remind courageous Yola and me of Central America, where we preached in the 70's and 80's in Guatemala, El Salvador and Nicaragua. The bloody civil wars in those needy nations were tragic.
And yet, as Psalms 18:6 tells us, when people are knocked down they have but one way to look, and that way is up! Dear Yola and I witnessed the explosion of the Gospel in Guatemala and El Salvador and Nicaragua. The drug wars here in Mexico are not political as were those civil wars in Central America, but they are also bloody terrible wars of violence, intimidation and destruction. THE LORD JESUS is the only hope, and we must continue getting the message out. II Peter 3:15!"
(NOTE: Thanks to your help, we were able to ship him more tracts in May.)
Many of you gave to help with the project of 2 million Chick tracts for Mexico and Latin America. Gary Schwer of the ministry Hands Across The Border has been moving these pallets of tracts into Mexico for us. In the photo on page below, he and his helpers transfer four pallets (400,000 tracts) to pastors and missionaries who will take them through northern Mexico and also to Brother Joaquín who is taking a load into Nicaragua. Schwer has other distribution points where other pastors are meeting him to provide more to churches in Mexico. The tracts are already widely distributed in northwestern Mexico and have made it all the way down to Baja.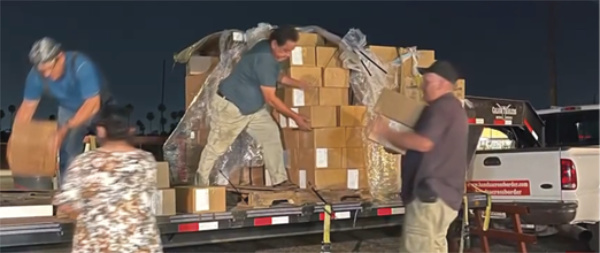 • • • • • •
We just learned that the project was delayed when his brakes failed coming down a mountain road, and his trailer was damaged. But Schwer now has it fixed and will finish taking the rest of the 2 million tracts across into Mexico for distribution this summer. A lot of people are going to hear about Jesus! Thank you for helping them.
We just shipped another 10,000 tracts to Missionary Mike Wallace, working in the world's 5th largest city. He writes that in Mexico City "we can easily give out 1,000 tracts in about one hour in our immediate area. We also sometimes go into the downtown area and there are even more people, and we give out even more tracts much quicker, if you can imagine that. Thanks to those who support this great ministry."

Philippines
One of the pastors who is supplied with tracts by Missionary Mike Carey, sent a picture of some of our preachers here in our church. "They have their assigned areas around our church. We have 3 pastors now pastoring their own churches and preachers around vicinity."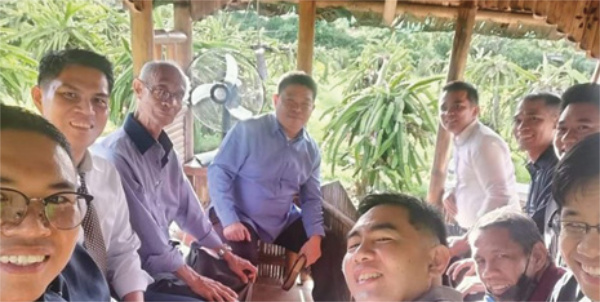 • • • • • •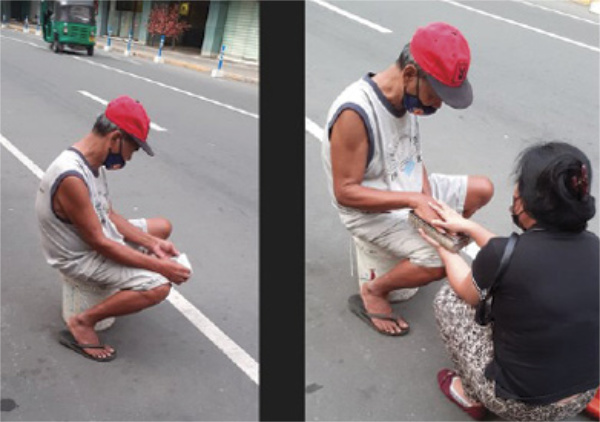 • • • • • •
One pastor reports: "I am able to discuss with youth ages 13 and above regarding what is inside the Gospel tracts. By God's grace there are 13 souls who received Jesus as their Lord and Saviour."
Another writes: "Another lady is now a pastor's wife. It all started with the tracts we gave her."
Missionary Joshua Yun shuttles back and forth between the Philippines and Korea, leading church plants in both countries.
ONE MILLION TRACTS FOR THE PHILIPPINES
We have an opportunity to ship a container of one million Chick tracts into the Philippines. Missionaries have asked us to supply these for the use of local pastors who are committed to street evangelism. A local missionary service has offered to help us with the permit and paperwork to forward these boxes to the recipients throughout the islands. Your gifts will make an impact for Jesus that will be felt throughout this Catholic country, while the door is still open!

Ireland
Missionary Nico Verhoef, out of Switzerland, writes "I have been taking men with me on missions & street preaching tours through Europe for 1-2 weeks every summer the last 25 years. It is an excellent way of training young men for the ministry. Lord willing, I plan to take about 15 men from different countries from the European continent to Ireland and street preach in all big cities in Ireland and Ulster & Northern Ireland." You provided them with 25,000 tracts in Irish and English for this outreach.

Italy
Soccer . . . people go wild over it in Italy. Missionary Jamie Homan just received 20,000 Italian "Superstar," the popular soccer tract.

United Kingdom
Meet your new Brother Faron. He is reading a Chick tract (that you provided), the one that led him to Jesus, and now he wants to reach others. He made a YouTube video, reading that tract to others. His two older brothers died by drugs, and his two younger brothers are also drug addicted. Thank you for helping him find Jesus!
Thousands of tracts have been shipped to equip the evangelists of Cross Mission in South London, United Kingdom. This is a Korean mission, sending missionaries to the country which gave us our English Bible, but has now lost its way. The dedication of these Korean evangelists puts many of us to shame!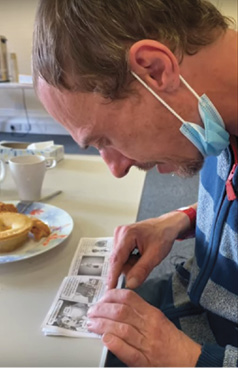 • • • • • •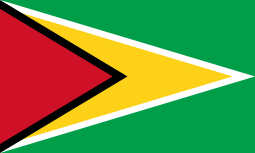 Guyana
Another missionary, Noel Runyon, is asking for Spanish tracts for the many people rushing out of next-door Venezuela. Starvation is driving many out of the country, and Runyon needs Spanish tracts to give hope to these refugees. Thanks to you, they are on the way!
Also, former muslim Zakir Ibrahim needs 60,000 tracts for Guyana. In East Bank Demerara, the church he planted is faithfully reaching out with the gospel, and needs our help!
---
Many Christians want to provide Chick tracts to missionaries. . . We can help!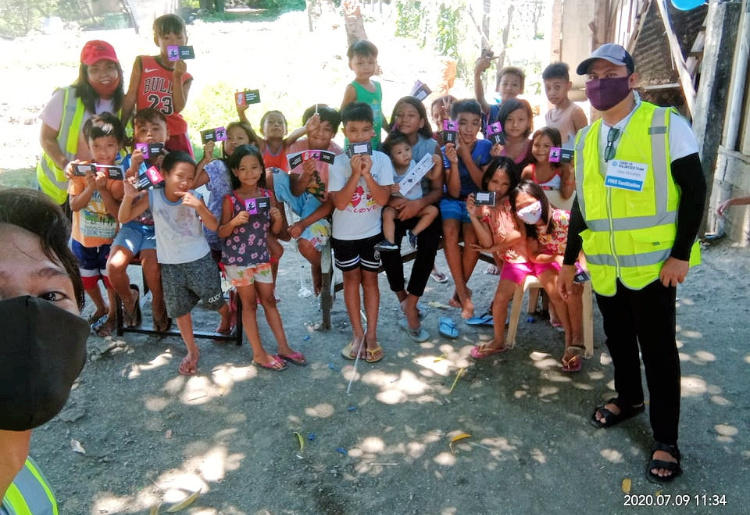 We maintain an account called: The Chick Missions Fund
Although we are not legally structured to give tax-deductible receipts, we definitely know how to get literature into missionaries' hands. If you would like to help extend the hands of a missionary with Chick tracts, please send your donation to:
Chick Missions Fund
Chick Publications
PO Box 3500
Ontario, CA 91761
100% of the funds you send to the Chick Mission Fund are used to ship literature to missionaries.
We receive requests frequently from missionaries who need your help.
Hundreds of thousands of tracts are now being printed for additional projects, with more requests coming in from missionaries every week!
WILL YOU HELP?