We sometimes get calls from Christians who would like to support the Mission Fund but wonder how we decide which missionaries get tracts. We want to stress that we do NOT just send tracts to missionaries and hope for the best. We supply only those who desperately WANT Chick tracts for their outreach. They contact us and ask if there is some way they can get these little evangelists to help their work.
After learning more about them and their ministry, their sending churches, etc., we then begin to meet their requests. Chick tracts from the Mission Fund go only to those ready to use them wisely and effectively. We work hard to be good stewards!

Argentina
Missionary Alex Holowaty recently used the Chick tracts you provided to go through the town of Belén and plant a new church. Starting in a home, they then grew until they could rent a hall. Holowaty reports that they have just finished going through the entire town handing out tracts until they ran out. We love to support new church plants through the Mission Fund!

Belgium
Junior Haley uses thousands of the tracts you supplied here. He writes: "The new tracts are going fantastically. People are taking them and reading them. They have helped us to get people to open up and discuss the gospel as well." Europe is often considered a difficult place for the gospel, but Chick tracts open doors and hearts.

Israel
This is a nation of immigrants. God is moving upon Jews all over the world to return to their ancient homeland, and many of them are English speakers who are now anxious to learn the language of their new home, Hebrew. Your gifts are helping veteran missionary Andrew Lewis take advantage of this with a specially produced edition of the Chick tract "The Royal Affair," about King David and Bathsheba. Printed in both languages, English and Hebrew, the reader can read the English tract, and then the Hebrew right above it, sharpening his Hebrew skills at the same time as he gets the gospel message. See this sample: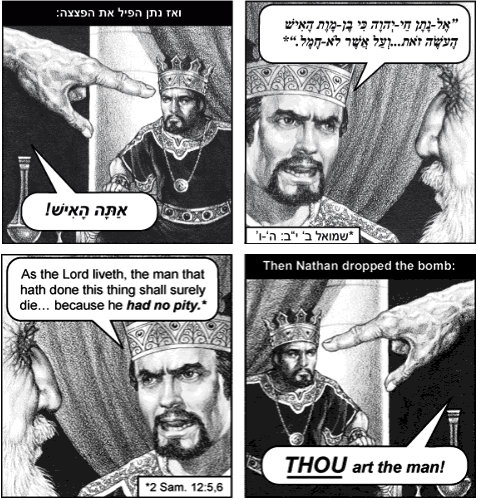 (It looks backwards, doesn't it? Of course! Hebrew is read from right to left.)

Philippines
Bruce Hunsaker is finding that Chick tracts really open doors with the police in his area. They are ready to read the gospel —and listen.
The openness to the gospel in this country is greater than we have seen anywhere else. While we can, you are helping to pump as many tracts in here as the workers can effectively use.

Kenya
Being a missionary involves more than preaching or teaching. Often a missionary gets into a very personal situation with someone who desperately needs Jesus. Joetta Smith, missionary to Kenya, who covers her area with the tracts you provide, shared a recent experience: "When I spoke at the outdoor meeting there was a drunken man who came up and just fell on his knees crying out to God. People were laughing at him, but I rebuked them.
Today, I did not go with the pastors, but after the meeting they came back to my place with that same man as he had wanted to meet me. What a testimony!! He was a BACKSLIDDEN Christian and said God had put the words in my mouth that really convicted him. He has not had a drink since that day!! He was SO happy to have his relationship with Jesus restored! We were able to counsel him for a good while and he left with a good supply of tracts as well."

Mexico
Mike Wallace serves just outside one of the world's most populous cities, Mexico City. He writes, "Chick tracts get read! We live on the edge of Mexico City and we are so very grateful for Chick tracts. When we pass out Chick tracts, people take them, read them and we have numerous testimonies of people getting saved by reading them. Sometimes I will sit down with someone after I see they have finished reading the tract and with their hearts well prepared by the gospel, I can more easily lead them to Christ."
---
Many Christians want to provide Chick tracts to missionaries
We can help!
We maintain an account called: The Chick Missions Fund
Although we are not legally structured to give tax-deductible receipts, we definitely know how to get literature into missionaries` hands. If you would like to help extend the hands of a missionary with Chick tracts please send your donation to:
Chick Missions Fund
Chick Publications
PO Box 3500
Ontario, CA 91761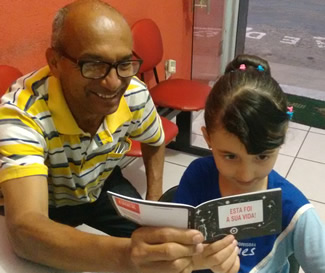 100% of the funds you send to the Chick Mission Fund are used to ship literature to missionaries.
In the past few months, shipments have been provided for:
Congo Kenya Switzerland Ethiopia Mexico Trinidad
Guyana Netherlands United Kingdom India Philippines
Zambia Israel Spain Zimbabwe
Will you help?