Here are just a few of the reports we recently received from missionaries who use Chick tracts you provided through the Chick Missions Fund

Mike and Mary Wallace — Mexico City
"Yes, we could certainly use more Chick tracts. They are so well accepted here in Mexico City and there are over 20 million people in the city and another 16 million around the edge of the city. We have had some people approach us here saying they received Christ after receiving the tracts that we gave them — those that you sent. As we walk up and down the streets passing out tracts, we see people reading them as we go, and upon our return, often see them still reading them. I had a man approach me with tears in his eyes not too long ago saying he got saved after reading a tract."
---

Jerry Alford — Venezuela
"The Chick tracts are a key in our church planting efforts. There have been over 10 churches started by your tracts. The churches you have helped us start, they now are trying to start churches. There has been five, second-generation churches started and we have a plan for four more that I will be directly working with.

Thank you. The people in Venezuela LOVE THE TRACTS AND WILL ASK FOR MORE. This opens the door for more witnessing."
---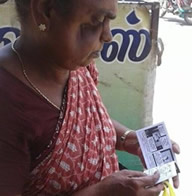 India
Our contact there wrote: "It`s a very tough phase the world over for gospel work, and especially in India. A lot of missionaries are being killed and atrocities are being committed against their families. "The main stream media somehow never gets this part of the news. But the gospel is prospering in India like never before. For every missionary that goes down, ten more go out in their place." We`re planning another project of 250,000 tracts for India.
---

Joetta Smith — Kenya
"I humbly praise God for sending Chick tracts! I am excited to tell you that two of the grandchildren of Pastor Sablon whom I minister with, went to their school taking tracts. Bramwell (he`s 12 yrs) told me that when the children saw him and Cynthia (the granddaughter) with those tracts they formed a long line to get them! Even the teachers wanted them! We know those tracts will make it into the homes as well, Many parents will also read them!

We also praise God for a bit of "persecution"....Pastor Joshua`s 12 yr. old daughter has been enthralled with the tracts and she took a Muslim tract to school. In the area where they live in Mumias, almost all schools (except private which are very expensive), are run by Muslims.

Well, his daughter was asking one of the girls WHY does she believe all those things the Muslims teach, etc.

A teacher took her into the principal`s office and took the tract and told her NEVER to bring such things to the school again. Then she tore up the tract!! But, praise God, the girl was not afraid and she understood the reaction because she has read those tracts!

That Mumias area is also heavily dominated by the Catholics. So, many tracts are being handed out there as well! We ARE getting some very curious responses and questions from Catholics. Most don`t even know what they really believe.

I am just SO excited at the way the tracts are being received! Pastors, evangelists and others are coming for tracts to hand out! It is just such a blessing to see what an impact the tracts are making, all over. Many of our pastors come from far outlying areas.

The fields HERE are white to harvest and the workers are SO few....BUT!! Praise God!! Chick tracts are like an army of "workers" who have come to help harvest the fields!! THANK YOU!"
| | |
| --- | --- |
| | |
---
Many Christians want to provide Chick tracts to missionaries
We can help!
We maintain an account called: The Chick Missions Fund
Although we are not legally structured to give tax-deductible receipts, we definitely know how to get literature into missionaries` hands. If you would like to help extend the hands of a missionary with Chick tracts please send your donation to:
Chick Missions Fund
Chick Publications
PO Box 3500
Ontario, CA 91761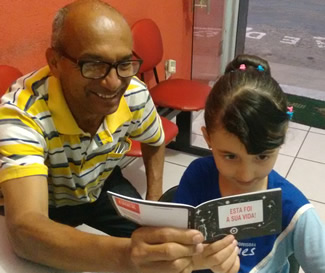 100% of the funds you send to the Chick Mission Fund are used to ship literature to missionaries.
In the past few months, shipments have been provided for:
Ethiopia Philippines Guatemala Greece India Israel
Bhutan Netherlands Hondurus Russia Kenya
Nepal Mexico Thailand
Will you help?