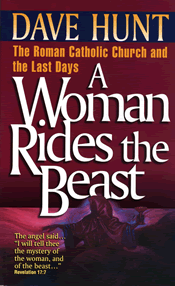 Excerpted from A Woman Rides the Beast
© 1994 by Dave Hunt
Reproduced by permission
"Virtually all attention these days is focused on the coming Antichrist —but he is only half the story. Many are amazed to discover in Revelation 17 that there is also another mysterious character at the heart of prophecy —a woman who rides the beast."
—Dave Hunt
The Bible says the whore of Revelation 17 is a city and gives remarkable clues to her identity. The following is one of a series of excerpts from A Woman Rides The Beast, by Dave Hunt. Here Hunt digs behind these clues which point to only one possibility: Rome and the Vatican. In this book, Hunt's thorough research is a must for anyone who would witness effectively to Roman Catholics.
---
Finally, the angel reveals to John that the woman "is that great city which reigneth over the kings of the earth" (Revelation 17:18). Is there such a city? Yes, and again only one: Vatican City. Popes crowned and deposed kings and emperors, exacting obedience by threatening them with excommunication. At the time of the First Vatican Council in 1869, J.H. Ignaz von Dollinger, Professor of Church History in Munich, warned that Pope Pius IX would force the Council to make an infallible dogma out of "that pet theory of the Popes - that they could force kings and magistrates, by excommunication and its consequences, to carry out their sentences of confiscation, imprisonment, and death..." He reminded his fellow Roman Catholics of some of the evil consequences of papal political authority:
When, for instance, [Pope] Martin IV placed King Pedro of Aragon under excommunication and interdict...then promised indulgences for all their sins to these who fought with him and [tyrant] Charles [I of Naples) against Pedro, and finally declared his kingdom for-feit...which cost the two kings of France and Aragon their life, and the French the loss of an army.

Pope Clement IV, in 1265, after selling millions of South Italians to Charles of Anjou for a yearly tribute of eight hundred ounces of gold, declared that he would be excommunicated if the first payment was deferred beyond the appointed term, and that for the second neglect the whole nation would incur interdict.
Though John Paul II lacks the power to enforce such brutal claims today, his Church still retains the dogmas which authorize him to do so. And the practical effects of his power are no less than those of his predecessors, though exercised quietly behind the scenes. The Vatican is the only city which exchanges ambassadors with nations, and she does so with every major country on earth. Ambassadors come to the Vatican from every major country, including the United States, not out of mere courtesy but because the pope is the most powerful ruler on earth today. Even President Clinton journeyed to Denver in August 1993 to greet the pope. He addressed him as "Holy Father" and "Your Holiness."
Yes, ambassadors of nations come to Washington D.C., to Paris, or to London, but only because the national government has its capital there. Nor does Washington, Paris, London, or any other city send ambassadors to other countries. Only Vatican City does so. Unlike any other city on earth, the Vatican is acknowledged as a sovereign state in its own right, separate and distinct from the nation of Italy surrounding it. There is no other city in history of which this has been true, and such is still the case today.
Only of the Vatican could it be said that a city reigns over the kings of the earth. The phrase "the worldwide influence of Washington" means the influence not of that city but of the United States, which has its capital there. When one speaks, however, of the influence of the Vatican around the world, that is exactly what is meant - the city and the worldwide power of Roman Catholicism and its leader the pope. Vatican City is absolutely unique.
Forget a Rebuilt Babylon
Some suggest that the Vatican will move to Babylon in Iraq when it is rebuilt. But why should it? The Vatican has been fulfilling John's vision from its location in Rome for the past 15 centuries. Moreover, we have shown the connection to ancient Babylon which the Vatican has maintained down through history in the paganized Christianity it has promulgated. As for ancient Babylon itself, it wasn't even in existence during the past 2300 years to "reign over the kings of the earth." Babylon lay in ruins while pagan Rome and later Catholic Rome, the new Babylon, was indeed reigning over kings.
One eighteenth-century historian counted 95 popes who claimed to have divine power to depose kings and emperors. Historian Walter James wrote that Pope Innocent III (1198-1216) "held all Europe in his net." Gregory IX (1227-41) thundered that the pope was lord and master of everyone and everything. Historian R.W. Southern declared: "During the whole medieval period there was in Rome a single spiritual and temporal authority [the papacy] exercising powers which in the end exceeded those that had ever lain within the grasp of a Roman emperor."
That the popes reigned over kings is an undisputed fact of history that we will more fully document later. That in so doing horrible abominations were committed, as John foresaw, is also indisputable. Pope Nicholas I (858-67) declared: "We [popes] alone have the power to bind and to loose, to absolve Nero and to condemn him; and Christians cannot, under penalty of excommunication, execute other judgment than ours, which alone is infallible." In commanding one king to destroy another, Nicholas wrote:
We order you, in the name of religion, to invade his states, burn his cities, and massacre his people...
The qualifying information which John gives us under the inspiration of the Holy Spirit for identifying this woman, who is a city, is specific, conclusive, and irrefutable. There is no city upon earth, past or present, which meets all of these criteria except Catholic Rome and now Vatican City. That inescapable con-clusion will become increasingly clear as we proceed to uncover the facts.
---