Philippines Has Open Door to the Gospel
Pictures from the Philippines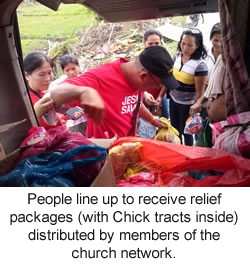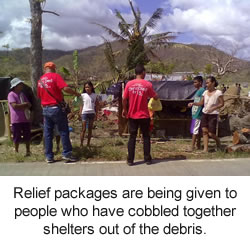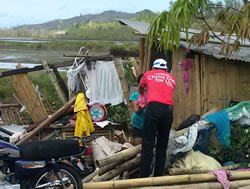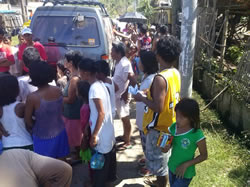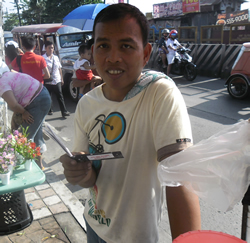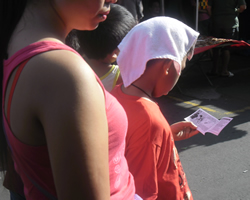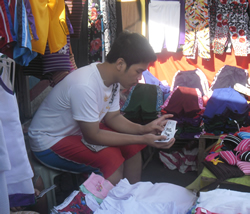 Because many Chick Publications customers have a heart for missions and support the Missions Fund, we have been able to provide millions of Chick tracts to missionaries and workers worldwide. We find that certain regions tend to be "hot" for a time, with great freedom for the gospel and openness among the people. When we see an area like that, we feed literature to the workers as fast as possible, until that area becomes less receptive and God opens another one.
At present, the Philippines is just such an area.
Even before the record-breaking typhoon, Yolanda, smashed through the center of the Philippine Islands, a stable network of local churches had been established. Chick Publications has worked for several years with Pastor Rodellio Mallari who, fortunately, was not in the direct path of the typhoon. However, because of the church network Mallari works with, relief supplies were quickly channeled through the network to pastors in the devastated area.
At first, food and water was the most needed, but as soon as international relief supplies came in, the church network switched to clothing, tents and plastic tarps to protect the people from the sun in the daytime and cold at night.
Besides the relief supplies, 40,000 Tagalog Chick gospel tracts happened to be on site when the typhoon hit, ready to be included in the relief packages.
One pastor reported from Tacloban, at the heart of the devastation, that over 90 percent of the buildings were destroyed, electric service was limited to a few generators set up to charge cell phones, which worked poorly because of the damaged cell towers. One of the main sources of employment were the groves of coconut farms where the trees were blown down by the thousands. Even centuries-old trees were no match for the wind and storm surge. It would be months or years before farms and businesses would recover to offer jobs again.
Children wandered through the debris looking for their parents, or parents were searching for their children. Police were carrying out the dead in body bags.
Prior to the typhoon, Chick Publications has worked for years with Pastor Mallari. He has been able to take the tracts into schools and prisons with great freedom. He writes, "Again, thank you very much for the last special grant of 10,000 Tagalog "The Bull" tracts which will find their way into the prison cells of 38,000 total inmate populations at the four national penitentiaries. Since we started ministering inside the national penitentiaries four months ago, the Lord has given us some tremendous breakthroughs. Through our joint efforts with four separate teams of partners, we are now able to hold Bible studies, counseling, and tract distribution inside the Maximum, Medium, and Minimum Security Compounds of the National Bilibid Prison (NBP) in Muntinlupa City and just recently the Correctional Institution for Women (CIW) in Mandaluyong City." This is just one of many shipments that you helped provide to him.
Over 50,000 tracts went to Missionary Donnie Whitlock, who carefully feeds them to churches and ministries who work with him in the Philippines. He writes, "Out of the 38 nations I have preached in through the years, there is still no place like the Philippines for spiritual hunger." Whitlock and his ministry, Mass Media Outreach Ministries, have used Chick tracts for a long time. "Our ministry has found that Chick tracts are loved throughout the Philippines. I can truthful say, MMOM's Bible Team has never seen a Chick tract thrown on the ground during distribution, as we have experienced with regular tracts. There have been hundreds of testimonies of people receiving Christ through the tract ministry —to the glory of God!"
The Philippines is not the only place where it is possible to get the gospel into the schools. Missionary Bill Eubanks has been able to preach and distribute hundreds of thousands of Chick tracts you provided in the schools of Zimbabwe, Africa. And in Guatemala, Walter Sayers has been able to preach Jesus in the schools also.
A project that has been ongoing for a long time involves distributing Chinese tracts in Beijing, China. Hundreds of thousands of Chick tracts have gone into this communist country from the Chick Mission Fund. Sorry, but for the safety of the workers we cannot give you details on how they get in or how they are distributed, but it works! Pray that someday God will open this nation so that its over one billion people will not have to fear the government if they choose to follow Jesus Christ.
At the moment of this writing, the Mission Fund has made commitments of nearly 400,000 Chick tracts for various missions projects, which include Hungary, the Philippines, France, Mexico, Tanzania, the multi-nation Asian Games coming up next year, and others.
---
Many Christians want to provide Chick tracts to missionaries.
Although we are not legally structured as a non-profit, and therefore cannot give tax-deductible receipts, we definitely know how to get literature into missionaries` hands. They often write to us asking if anyone can help them get Chick tracts.
"I wanted to write & thank you for the tracts that you sent us through the Chick [Mission Fund]. We will put them to good use here in St. Vincent! The people are now coming to me, stopping me on the road for, as they call them the 'Little Books'. We just gave out a thousand! This new order will hold us for awhile. Again, Thank you for your kindness towards us!
God bless and again Thank You! Thank You!

If you would like to help extend the hands of a missionary, please send your donation to:
Chick Missions Fund
Chick Publications
PO Box 3500
Ontario, CA 91761
100% of the funds you send to the Chick Mission Fund are used to ship literature to missionaries. We receive requests all the time from missionaries who need help. If you have questions you can call us at (909) 987-0771 or email us at
postmaster@chick.com.