Many Christians know the disappointment of handing out wordy leaflet tracts that don't get read. Unsaved people simply won't read tracts that are jam-packed with lots of tiny words. But the unsaved love Chick tracts, and readily accept them.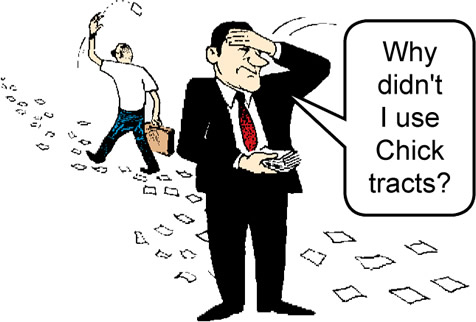 The 24-page Chick tract format gets the reader's attention with an engaging story in classic cartoon style. Soon, they are captivated by the story which presents a simple gospel message, ending with an invitation to accept Christ.
If you witness with tracts, make sure you use tracts that GET READ!
"...most people will read these, even if they have refused to look at all other gospel tracts."
Email
"I've been passing out your tracts and have seen great results. People have read them and got saved!"
Email
Start your personal ministry today!
Tract Sampler
$8.55
Includes copies of the 50 most popular Chick tracts for less than $10.
---
Bilingual Tract Sampler
$17.95
Contains our top 50 English and top 50 Spanish tracts.
---
Tract Assortment
$23.95
This assortment contains over 130 of our current tract titles.
CHICK TRACTS
CARTOON GOSPEL MESSAGES PEOPLE LOVE TO READ!