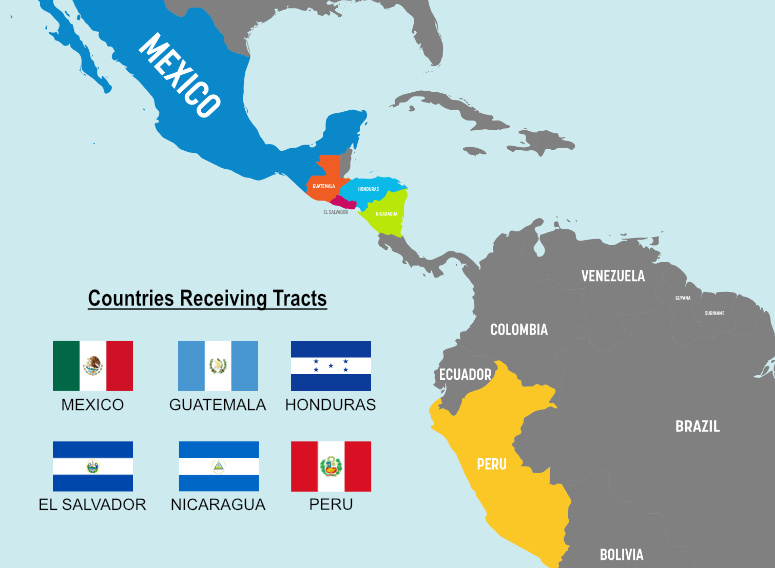 CAPTION: 2 million Chick tracts will be distributed in the highlighted countries.
----------
Tom Sloan, a third-generation missionary, has asked us to join him in making a big push for the gospel.
He is organizing a mass tract outreach throughout Mexico, Peru and four countries in Central America: Guatemala, Honduras, El Salvador and Nicaragua. These are countries we hear about in the news because of gun battles between towns, wanton kidnapping, innocent citizens being hit by stray bullets and people being terrorized.
Sloan operates Compassion Broadcasting (CBI), a network of radio stations devoted to preaching the gospel. He wants to combine that ministry with mass tract distribution to bring more of these people to Jesus.
Most of the tracts being printed for his ministry will include information on the back cover that informs the reader about how they can tune into the radio station in their local area. When ministries combine tracts with the broad reach of radio, the result can be more than the sum of the parts. Then add in a local church with a burden to reach people for Jesus, and you've got a powerful combination!
Below is an example of one of the back cover designs with local radio station info:
• • • • • •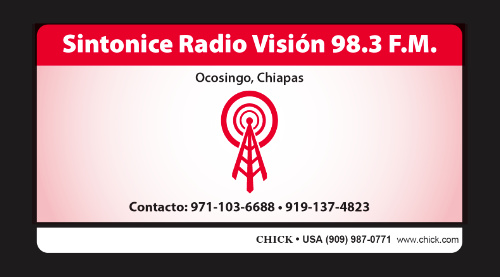 • • • • • •
Sloan works with a network of churches — some of which he helped plant himself — that are waiting to spread Chick tracts. Sloan has asked for 2 million Chick tracts to make a big impact for Jesus in these violence-torn areas.
He told us more when describing his plan:
"Each of our radio stations is under the ministry of a local church and pastor. The tracts for the radio stations will be used as a tool to evangelize and make people more aware of our radio stations in the communities.

That way, when anyone receives a Chick tract, they can tune into our radio stations if they have more interest in the gospel after having read the tract. Working in harmony with the radio stations, the Chick tracts will be a sort of 'ice breaker', if you will.

We have found that people read Chick tracts and, in the past, we have seen many people come to church, and thus, believe on Christ, because they received a tract. It is interesting to watch how, after a person on the street receives a tract, they stop and immediately read through the whole tract, and then come back and begin asking questions."
Shipping large amounts of tracts into Mexico can be challenging, so we will work with Hands Across The Border (HATB), a missions agency that specializes in clearing customs and bringing Bibles and tracts to many Mexican churches throughout the country.
Gary Schwer of HATB, operating out of San Ignacio, Mexico, has a truck and big trailer that he loads up with Bibles and tracts. Churches all along his route look forward to his arrival and are anxious to receive the tracts so they can begin the distribution.
HATB is very careful about the churches they work with and make sure they are true born-again believers. Most importantly, they ensure that the tracts do not sit around in storage but are distributed immediately.
Schwer told us by phone that the Chick tracts are in high demand among the believers there for evangelism. They go like hotcakes into peoples' hands and make a difference.
VIDEO: Gary Schwer of HATB talks more about his ministry in this heartfelt video:
This project will be completed in stages:
Stage One - (Already Shipped!): 490,000 tracts for use in Chiapas, the southernmost state in Mexico, plus the states of Hidalgo and Tabasco. Sloan operates eight radio stations in the area. To help those who read the tracts to learn more of God's Word, we will print radio station information on most of the tracts. Interested people can easily tune in and learn more. This church network will spread tracts through the mountain towns.
Stage Two - (Already Shipped!): 40,000 tracts to be used in partnership with 2 radio stations Sloan is now operating in Peru.
Stage Three - (Already Shipped!): 1.47 million tracts (That's 1,470,000!) will be distributed up and down Mexico, with many taken into Guatemala, Honduras, Nicaragua and El Salvador. Gary Schwer of HATB supplies a big network of churches with literature.
Sloan also wrote:
"These tracts will not sit in a warehouse. A portion of the tracts will be sent to Culiacan, among the communities that fabricate a great deal of illegal drugs that are destined for the USA. So, maybe we can help with some damage control there, and in the process, see some souls saved as well."
Current Project Status:
Gary Schwer of HATB is now in the process of clearing Mexican Customs. Once cleared to enter Mexico, the tracts will be taken by Schwer to distribution points throughout Mexico, Guatemala, Honduras, El Salvador and Nicaragua.
What's Next for the Mission Fund?
We have many more missionaries who are waiting for tracts as the funds come in. Your gift to the mission fund will be put to work right away!
We maintain an account called: The Chick Missions Fund
Although we are not legally structured to give tax-deductible receipts, we definitely know how to get literature into missionaries' hands. If you would like to help extend the hands of a missionary with Chick tracts, please send your donation to:
Chick Missions Fund
Chick Publications
PO Box 3500
Ontario, CA 91761
If you would like to donate right now using a credit/debit card or a PayPal account, please visit our mission fund page:
100% of the funds you send to the Chick Mission Fund are used to ship literature to missionaries.
We receive requests frequently from missionaries who need your help.
Hundreds of thousands of tracts are now being printed for additional projects, with more requests coming in from missionaries every week!
WILL YOU HELP?