Wayne Teuerle has found a unique way to use the tract, Gunslinger. He lives in Temecula, California, where the Old Town portion has been restored to an authentic frontier village.
Visitors arrive from many parts of the world to savor the "wild west" atmosphere and visit the museum and shops. Special events are staged such as mock gun fights and bank robberies, and quick-draw contests along with western music and stagecoach rides.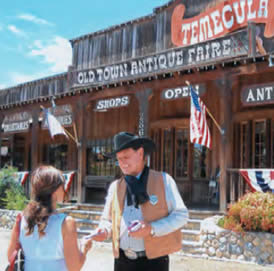 Teuerle`s heart for the lost led him to found and manage a rescue mission in Long Beach, California for 30 years. When he retired to the Temecula area, he looked to see what he could still do for the Kingdom.
The crowds of visitors in the Old Town caught his attention. He decided to dress to fit the theme and stroll through the crowds welcoming people with a smile, making small talk for a moment and then passing them a copy of Gunslinger.
"Even if they are in a hurry, they will take the tract. But if they will take the time, the tract gives me the opening to share the gospel, one-on-one," says Teuerle. "I have never found one on the ground and only one person has ever refused to take it." His western dress does not include the pistol. "If they ask, 'Where`s your gun?` I just tell them I`m the preacher," he says. In chatting with the visitors, he has found that many are Christians and he suggests they take the tract and pass it on to someone in their family as a souvenir. This is just one of the hundreds of creative ways that soul winners have used to deliver the gospel with Chick tracts.
Like Teuerle, many are watching their community event calendars where there is a large gathering of people. Such events provide the opportunity to reach many at once.
Specialized tracts such as Gunslinger, The Slugger for sports events, The Wall for car shows and races, Bad Bob for biker events, Party Girl for concerts, are just some of the tracts designed to reach people who attend a particular event.
Take a closer look at your community and see how you, too, can be creative in sharing the gospel.