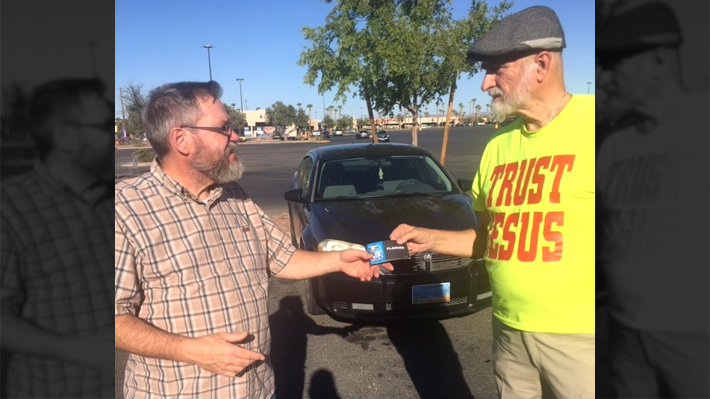 As Christian witnesses, we need to be creative, and always ready to seize an opportunity for Jesus. The current pandemic has brought fear to a lot of people.
Evangelist, Tim Berends, has been passing out Chick tracts since 1973, and has a personal goal to pass out 300 tracts a day in one of the most difficult places of all . . . Las Vegas. Everyone there has something besides Jesus on their mind.
Berends recently discovered a title that people cannot resist. He says, "In light of what is happening hardly ANYBODY turns me down." The tract? It's entitled, "PLAGUES". Since the President actually called COVID-19 a plague, the word has been on people's minds, and they want to read about it.
The Bible describes a series of plagues that devastated another nation —Egypt.
And why was Egypt destroyed? They failed to listen to the words of God brought to them by Moses. If the Egyptians had repented, then they would have avoided the death and destruction of their nation.
One recent survey indicated that less than 10% of Americans regularly go to the Bible for guidance in life. Is it possible that today's trouble is for the same reason as Egypt's problems?
For over a decade, "Plagues" has been available only as a custom print title (10,000 copy minimum). But in view of the plague affecting the world, and our belief that people will respond, we are bringing this title back into stock for a limited time. You can now order this tract in packages of 25 (or discounted cases of 1,000) as needed during this limited time offer.