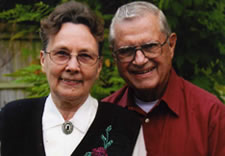 After 27 years on the mission field, Marlin Baker was not ready to hang it up. With a heart for hurting people, he found plenty of them at the local jails. He knew that gospel literature was highly effective there because the inmates had plenty of time to read. The pictures in Chick tracts also help inmates with poor reading skills.
After 22 years in Korea and 5 years in the Philippines, Marlin returned to the U.S. where he quickly entered another mission field —local jails and prisons. Now, at 80, he has succeeded in planting over half a million tracts into that needy field.
His efforts in the jails have been rewarded by many testimonies. One prisoner writes: "I would like you to send me some literature in Spanish. A friend gave me a tract, The Great Escape. I like it very much. I am here in the Dallas jail. I have suffered much because I didn`t know God and had never read the Bible. But now I know God loves me and that Christ died for my sins and now I am set free."
Another writes: "I want to share something special with you. When you send in the Chick tracts, they are very blessed. Once they are read here, Jesse sends them to his daughter and son. After they read them, they give them to his grandkids. Then his wife takes them to the hospital where she works and they find their way into various homes." This illustrates how much mileage the tracts get when seeded into the prison system. Marlin`s love for the prisoners has gained him access to various jails in the Dallas, Texas, area. He has developed a strategy that effectively works around the normal restrictions that prisons place on literature distribution. Marlin personally conducts Bible studies with prisoners as a voluntary chaplain in several city and country jails. Most of the facilities will not allow him to bring literature with him, but will permit mail addressed directly to an individual prisoner.
Once he develops a group in his Bible study, he will begin mailing tracts and other literature to them personally. As a chaplain, he has access to the inmate roster where he can get names and inmate numbers for the mailing. Once he establishes mail contact, the inmates have Marlin`s address which they carry with them when they are transferred to other facilities. From there, they often write for more tracts which are spread around far beyond Marlin`s first local contact.
Using this strategy, Marlin and his wife are able to cover several different jails, juvenile detention centers and women`s prisons. Once he has an inmate on his mailing list, he will continue to send tracts until he does not get a response after a few months. While most facilities restrict what chaplains can personally bring in, Marlin`s mailing list technique has put the gospel into the hands of hundreds of thousands of the most hurting people in the country. If mail from individuals is restricted, Marlin sends it through his church.
As prisoners continue to come and go there is an endless demand for gospel literature in the prisons. Some of the letters he gets would break your heart. One prisoner writes from Dallas Jail: "I have been reading the little tracts. They carry a big message in them. I would really like a copy of Tiny Shoes in Spanish for my wife. I know it will help her because we both have a drinking problem and have two children. Please don`t delay."
Since there are jails everywhere, Marlin recommends his strategy to anyone with a heart for prisoners.